THE FIRST ALL-ELECTRIC BMW iX: JOY. BORN AGAIN.
The first all-electric BMW iX is a first of its kind in a future-oriented generation of automobiles. With fully-electric driving pleasure and newly-developed, precise and minimalist monolithic design, the BMW iX is a vision turned into reality. Discover the emblem of new era of mobility and electrify your sheer driving pleasure.
Read more
CHOOSE FROM OUR BMW iX RECOMMENDATIONS.
Electric range: 411 km, 0–100km/h: 6.1 sec
Charging Cable & 1 year charging card
Comfort Access, Multifunctional seats & Parking Assistant Plus
Electric range: 598 km, 0–100km/h: 4.6 sec
Charging Cable & 1 year charging card
Sport Package, Panorama Glass Roof Sky Lounge, Heat Comfort Package
BMW iX xDrive50
SIGNATURE
Electric range: 591 km, 0–100km/h: 4.6 sec
Charging Cable & 1 year charging card
Bowers & Wilkins Diamond Surround Sound System, 2-Axle Air Suspension
START DESIGNING YOUR BMW iX
"The monolithic design with few but clear lines is full of character and makes the vehicle look powerful. The BMW iX is robust yet clean and elegant."

Domagoj Dukec - BMW Design Head
EXPERIENCE THE DESIGN OF THE BMW iX IN THE VIDEOS.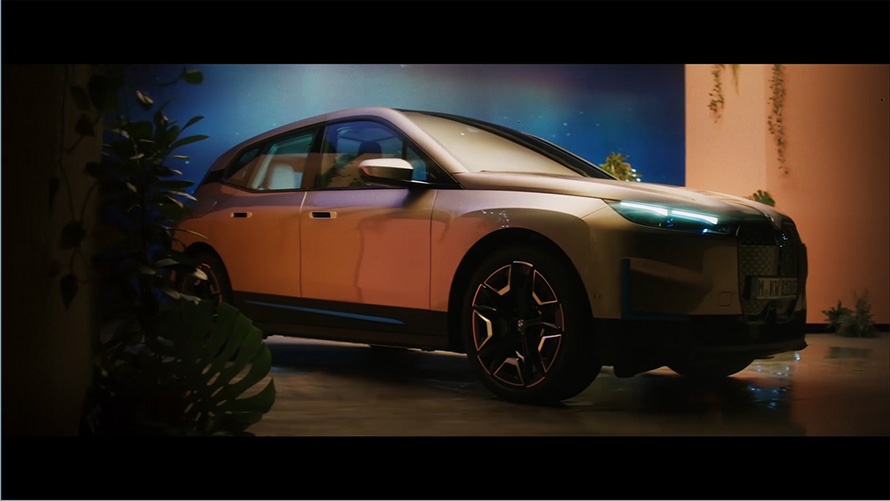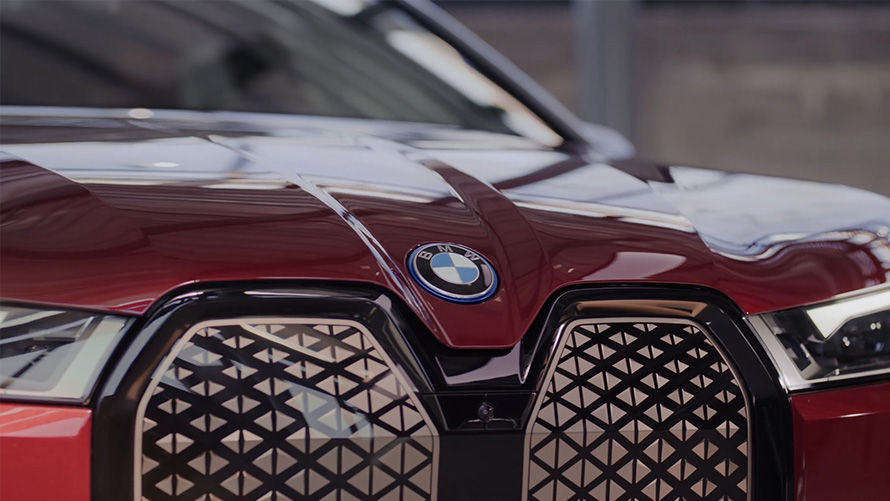 THE MONOLITH: RE-THINKING DESIGN
INTERIOR HIGHLIGHTS OF THE BMW iX
EXTERIOR HIGHLIGHTS OF THE BMW iX.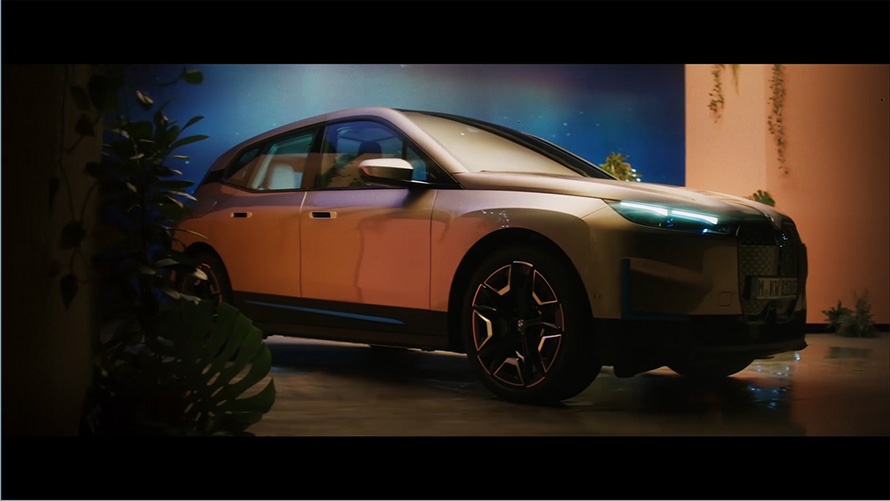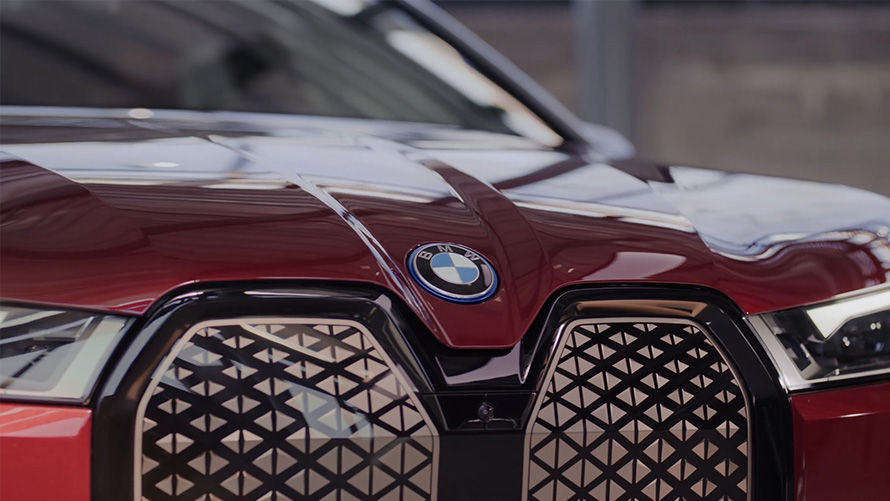 EXTERIOR DESIGN HIGHLIGHTS.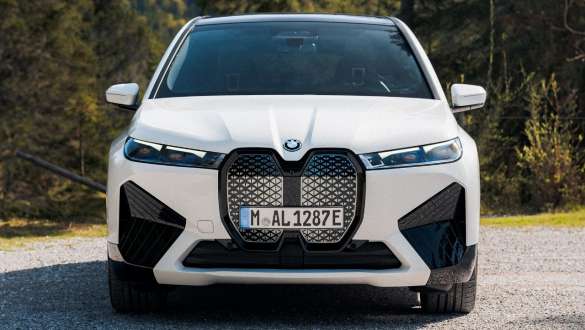 Striking
The front of the BMW iX has been reinterpreted in a futuristic style. The vertically aligned BMW kidney grille particularly highlights the progressive appearance of the SAV, in combination with the narrowest twin headlights ever produced by BMW for standard production vehicles.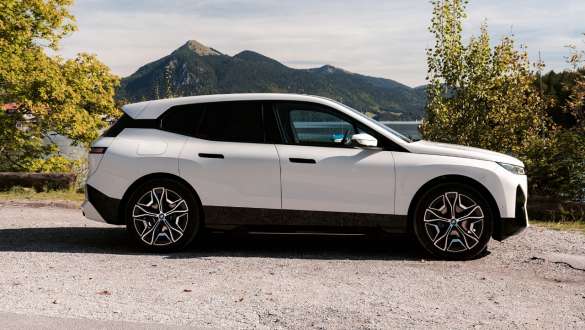 Aerodynamic
The generously proportioned rectangular contours around the wheel arches consciously focus attention on the wheels. The flush door handles, the frameless doors and the window outline, known as the "Streamflow", that tapers towards the rear are all harmoniously integrated into the appearance.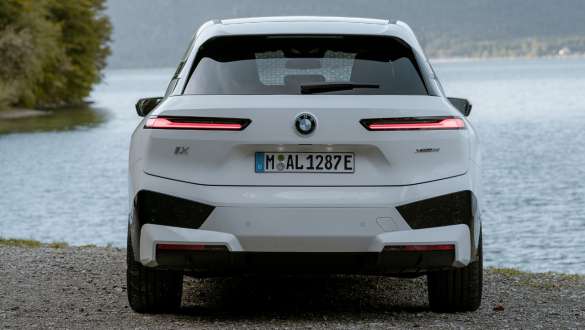 Sleek
Large surfaces, the narrowest rear lights of the BMW Group, and a seamlessly integrated tailgate produce a modern presence. The large diffuser elements optimise aerodynamics and, together with the flat underbody, improve range.
INTERIOR DESIGN HIGHLIGHTS.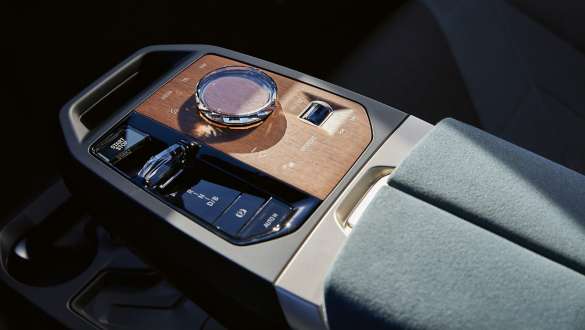 Minimalist interior design.
The interior design is modern and pared down to the essentials – a focus which can be noted in the displays and controls. As the central control element, the glassy iDrive Controller on the centre console is framed by an elegant control panel made of FSC-certified wood.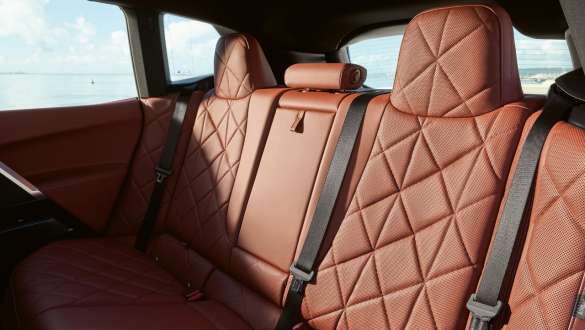 Lounge seating in the rear.
Thanks to the absence of the central tunnel, the BMW iX offers a spacious lounge atmosphere for the rear passengers. Additional options for the rear seats include heating and 3D loudspeakers integrated into the headrests. The rear seat backrest splits in a 40 : 20 : 40 ratio to extend the capacity of the luggage compartment.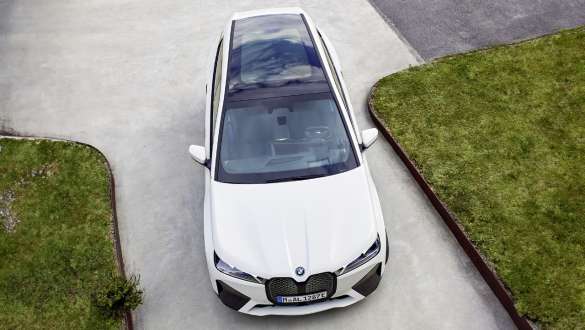 Panorama glass roof.
The full-length, "Sky Lounge" panoramic glass roof creates a generous sense of space and a relaxed lounge atmosphere within the cabin. It can be electrochromatically shaded for more privacy and, since there is no need for an interior headliner, it offers passengers even more headroom with a modern feel.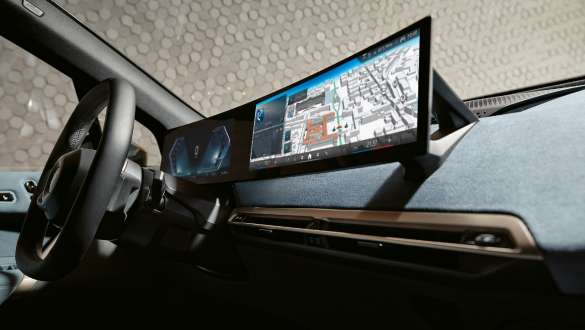 BMW Curved Display.
The BMW Curved Display, installed for the first time in a production vehicle, serves as the central display and control element for the fully digital stage of the BMW iX. The 12.3″ information display merges with the 14.9″ Control Display to form a single unit and creates the impression of a free-floating picture frame on the instrument panel.
ORIGINAL BMW iX ACCESSORIES.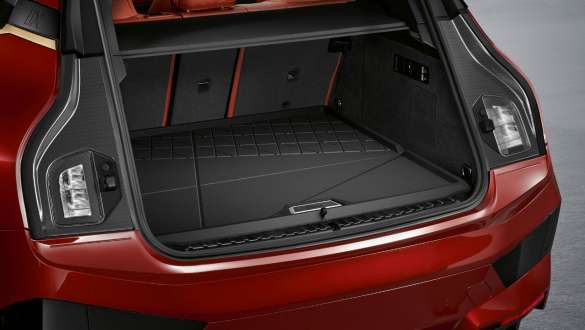 BMW luggage compartment fitted mat
Anti-slip, water-resistant, BMW fitted luggage compartment mat for protecting the luggage compartment from dirt and moisture. In black with the BMW logo.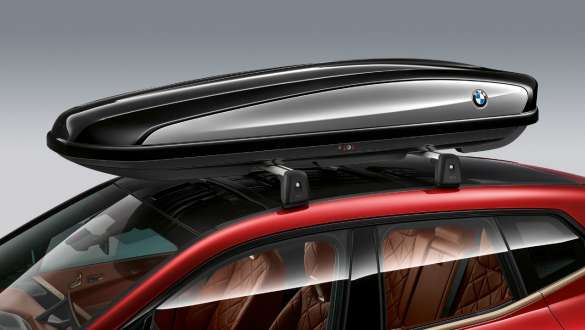 BMW Roof Box 520 black/titanium silver
BMW Black/titanium silver lockable roof box, accessible from both sides with a capacity of 520 litres, compatible with all BMW roof rack systems.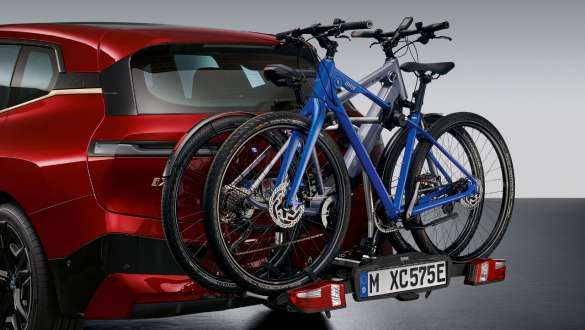 BMW rear bike rack Pro 2.0
Light, stable BMW rear bike rack Pro 2.0 for two bikes/e-bikes. Maximum load of 60 kg, can be compactly folded together.
CHARGING TIMES FOR 100 KM RANGE.
With your BMW iX and BMW Charging, you benefit from numerous tailor-made offers for charging at home, on the road and at work. As well as impressive charging performance, allowing you to recharge up to 95 km range in just 10 minutes for the BMW iX xDrive40 or the entire range in less than 40 minutes at public High Power Charging stations. * The values refer to an initial state of charge of 10%.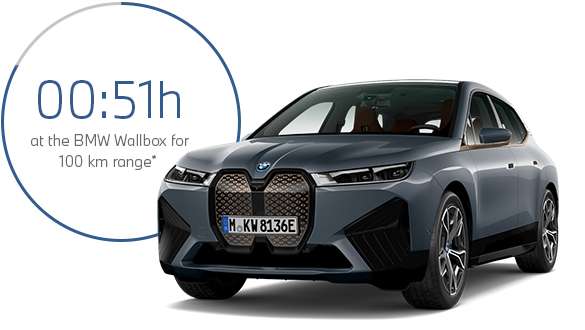 Charging at home for a range of 100 km.
01:39 h – BMW Wallbox (11kW)

01:39 h – Flexible Fast Charger (11kW) on industrial socket 

08:18 h – Standard charging cable or Flexible Fast Charger (2.3 kW) on household socket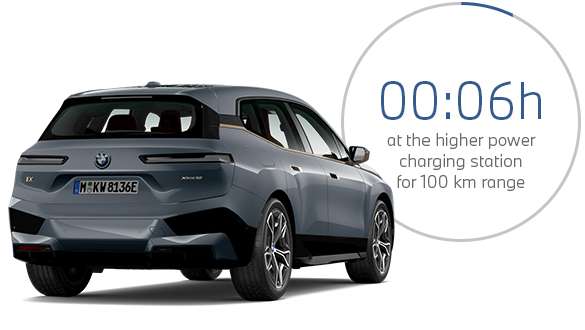 Charging on the move for a range of 100 km.
00:08 h – High-power charging station (max. Vehicle charging capacity)

00:21 h – Fast charging station (50kW) 

00:50 h – AC charging station (max. Vehicle charging capacity) 
DISCOVER THE BMW iX RANGES.
Explore the long-distance range of the BMW iX! Use the setting options and you see how surprisingly far you can go, if you take just a few factors into account.
425 KM RANGE WITH THE BMW iX.
With a range of 425 km the BMW iX xDrive40 is ideal for both city driving and long distances. Thanks to its highly efficient construction, it has an extremely low energy consumption of not more than 23 kW/h and outstanding aerodynamics with an exceptional cd of 0.25 – a value unrivalled in this vehicle segment. Driving the BMW iX in MyMode Efficient further increases this impressive efficiency.
95 KM RANGE IN UNDER 10 MINUTES.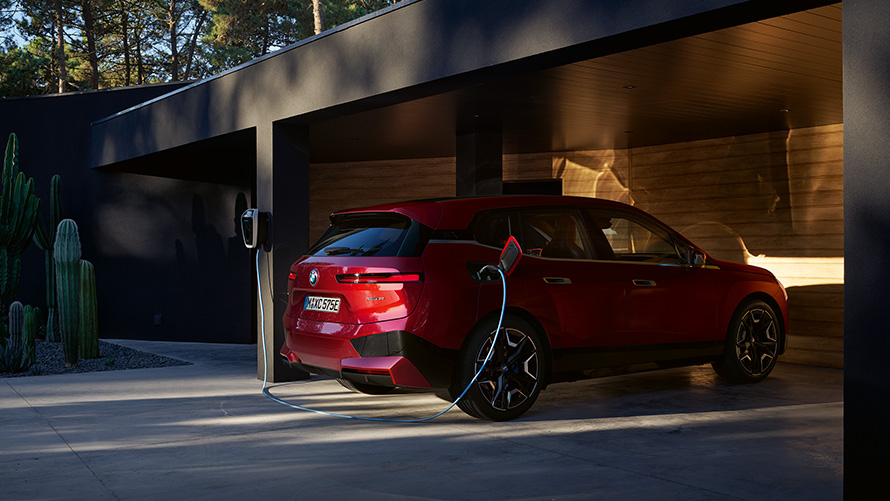 With a charging capacity of up to 150 kW, you can recharge the battery of your BMW iX at public fast-charging stations from 10 to 80% of total capacity in less than 40 minutes. At home, you can recharge your BMW iX xDrive40 using your convenient BMW Wallbox with up to 11 kW – and reach 100% battery charge in under 8 hours. The portable BMW Flexible Fast Charger can be bought optionally for charging at home or office.
Why do the ranges vary?

In detail

General range specification and range values in this indicator

What are the assumptions underlying the driving style settings?
BMW iDRIVE.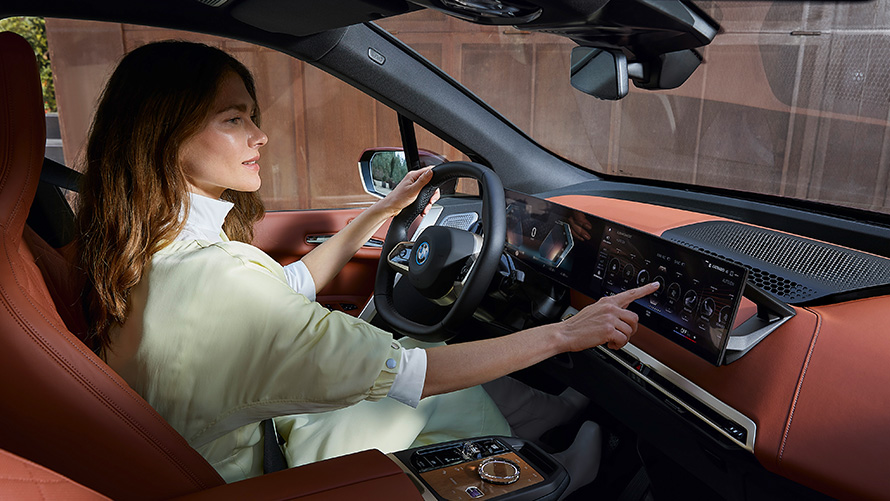 The new BMW iDrive immerses you in a completely new holistic interior experience and allows you to communicate with your BMW in a natural manner for the very first time. In addition to the haptics of the iDrive user interface, you control the infotainment system with the aid of its intelligent digital assistant, which reacts to your voice and gestures and makes your stay in the BMW iX as pleasant as possible.
DRIVING ASSISTANCE IN THE BMW iX.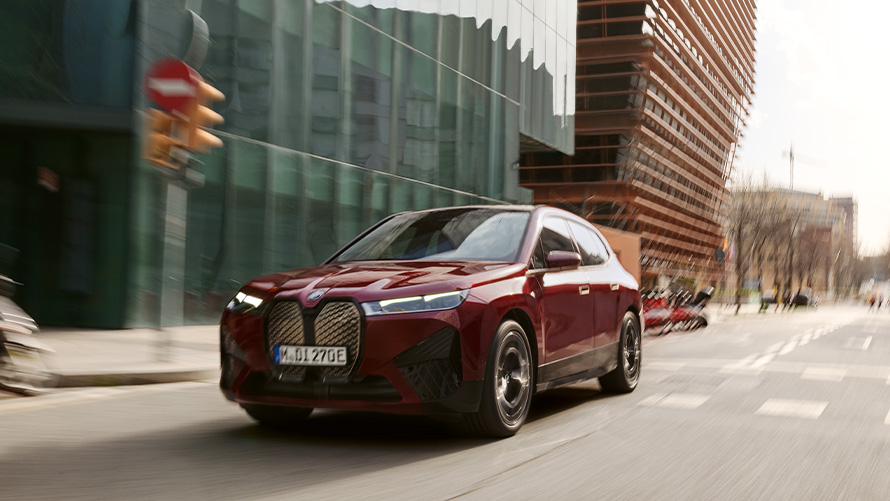 The BMW iX has an extremely large range of driver and assistance systems as standard features: The Driving Assistant offers optimum convenience and safety in critical or monotonous traffic situations. Among the features included in the system are the Lane Departure Waning, Lane Change Warning with blind spot detection and Front & Rear Collision Warning. The Parking Assistant Plus helps in parking and manoeuvring and uses a large number of cameras to give you a full display of objects surrounding your vehicle – in 3D as well.
CURRENT OFFERS FOR THE BMW iX
Driving the BMW iX may be closer than you think with BMW 360˚ Finance Plan.
Be it flexibility, complete peace of mind or the ability to drive a BMW more often, the BMW 360˚ Finance Plan caters to all your needs. Enjoy an Assured buyback that shields you from depreciation and puts you behind the wheel of a BMW more often.
TECHNICAL DATA OF THE BMW iX.
BMW iX xDrive40.
Disclaimer
*The above offer is all inclusive of registration charges (Delhi RTO), service package (BSI Plus 4 yrs/60000 km) and repair package (BRI 4 yrs/unlimited kms). Taxes, if any are extra as applicable.
Read more
Energy consumption and CO2 emissions.
* measured according to the WLTP test cycle

** Market-specific offer valid for new vehicles from BMW branches and dealers in Europe in the BMW Charging Network

*** Customers in Germany, China, Japan and the USA are expected to be able to activate the Personal eSIM from the end of 2021 via the participating network
 
operatorsBMW iX xDrive40:
Power consumption in kWh/100 km (combined): 19.4–22.5
Fuel consumption in l/100 km (combined): 0
CO2 emissions in g/km (combined): 0

BMW iX xDrive50:
Power consumption in kWh/100 km (combined): 19.8–23.0
Fuel consumption in l/100 km (combined): 0
CO2 emissions in g/km (combined): 0

Official data on power consumption and electric range were determined in accordance with the mandatory measurement procedure and comply with Regulation (EU) 715/2007 valid at the time of type approval. In case of a range, figures in the WLTP take into account any optional equipment. For newly type-tested vehicles since 01.01.2021, the official data no longer exist according to NEDC, but only according to WLTP. For more information on the WLTP and NEDC measurement procedures, see www.bmw.de/wltp.

The basis for the calculation of the charging times for 100 km range is the electric consumption. Values refer to 23 degrees Celsius battery start and ambient temperature with certification values excluding additional auxiliary consumers such as seat heating, displays, air conditioning. Individual consumption may differ (driving profile, temperature, ambient conditions). Consumption is based on WLTP best case.

Read more