BMW M8 COUPÉ – EQUIPMENT AND FACTS
An impressive range of equipment options are available for the BMW M8 Coupé, representing design, driving dynamics and technical innovations – all engineered to elevate driving pleasure to a new level. Ultimately, this impressive luxury sports car not only represents unbridled power, grounded in technological excellence, but also offers a luxurious ambience, first-class digital services and innovative driver assistance systems.

BMW M8 COUPÉ
OVERVIEW OF DRIVE TRAIN AND CHASSIS TECHNOLOGIES INSPIRED BY MOTORSPORT
Numerous highly developed drive train and chassis components inspired by motorsports provide more performance, more agility and more precision – and hence more adrenaline-charged driving pleasure.
High-performance M TwinPower Turbo 8-cylinder petrol engine.
The latest version of the high-performance M TwinPower Turbo 8-cylinder petrol engine guarantees performance in keeping with the latest standards. The high-revving unit develops an output of 441 kW (600 hp). The two turbochargers stand out thanks to their cross-cylinder bank exhaust manifold with optimum response characteristics. The V8 engine is also designed for extreme loads on the race track.
Adaptive M suspension.
The Adaptive M suspension makes it possible to adjust the damper characteristics to suit any given driving situation, increasing driving dynamics and comfort. In addition to the standard COMFORT setting for increased driving comfort, the SPORT programme offers firmer damper settings, and with SPORT+, the vehicle can be used on the race track.
M xDrive.
BMW M xDrive with Active M differential guarantees maximum traction and driving dynamics for everyday driving, as well as at the racetrack. The M specific technology combines the typical agility of a rear-wheel drive with the control of an all-wheel drive. You can choose between the drive variants 4WD, 4WD Sport and – in DSC-off mode – 2WD.
8-speed M Steptronic transmission.
The 8-speed M Steptronic transmission with Drivelogic offers numerous shifting options: from extremely dynamic to particularly comfortable, and smooth to fuel-saving. You can shift manually using the gear lever or the gearshift paddles on the steering wheel, or put the vehicle into automatic mode and let the transmission do the work.
M Carbon ceramic brake.
With the optional M Carbon ceramic brake, the use of braking power is even more direct, it is corrosion-free, even more heat-resistant, greatly reduced in wear and contributes to weight savings, which has a positive effect on agility, dynamics and acceleration. The special technical equipment is visible through calipers in the colour gold matt with M lettering on the outside. Due to specific material properties, increased operating noise may occur during braking, e.g. in case of prolonged, low load or in wet conditions shortly before vehicle standstill. The design-related noise can be avoided by braking the brake dry in case of wetness or loading the brake more heavily after a long low braking load. The influence of wetness and road salt cause brake effectiveness to correspond to that of a conventional brake system. This reduced braking power can be compensated for with a greater pressure on the pedal. The functional noises have no influence on the performance, operational safety and stability of the brake.
M MODE.
Use the M MODE button on the centre console to adjust the control intensity of the driver assistance systems. The ROAD mode offers the full range of functions of the electronic assistants. In the SPORT setting, they only warn but do not intervene. Depending on the selected mode, the display network also shows the corresponding driving information.
Configurable M brake.
Integrated braking system with precise pedal feel and M specific configurability. The new system brings together the brake activation, brake booster and braking control functions within a compact module. It also presents the driver with two pedal feel settings – COMFORT and SPORT modes alter the amount of pressure on the brake pedal required to slow the car.
M Sport exhaust system.
The M Sport exhaust system delivers a dynamic sound that can be modified via the integrated exhaust valve mechanism. The SPORT and SPORT+ programmes, which can be selected via the Driving dynamics buttons, are accentuated by an even more intense engine sound, while the comfort-oriented programme prioritises more discreet engine acoustics.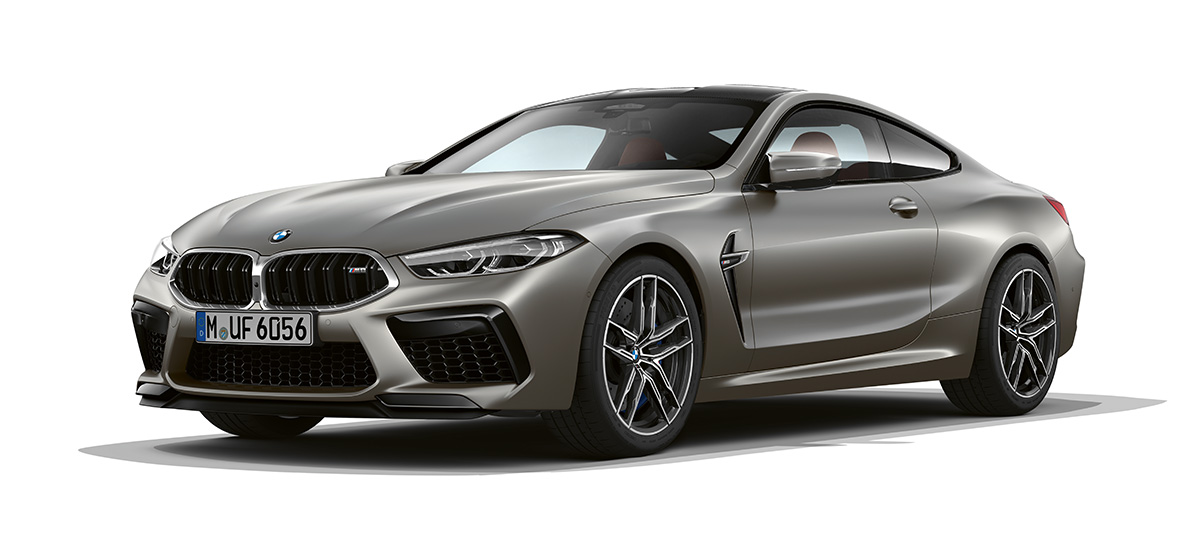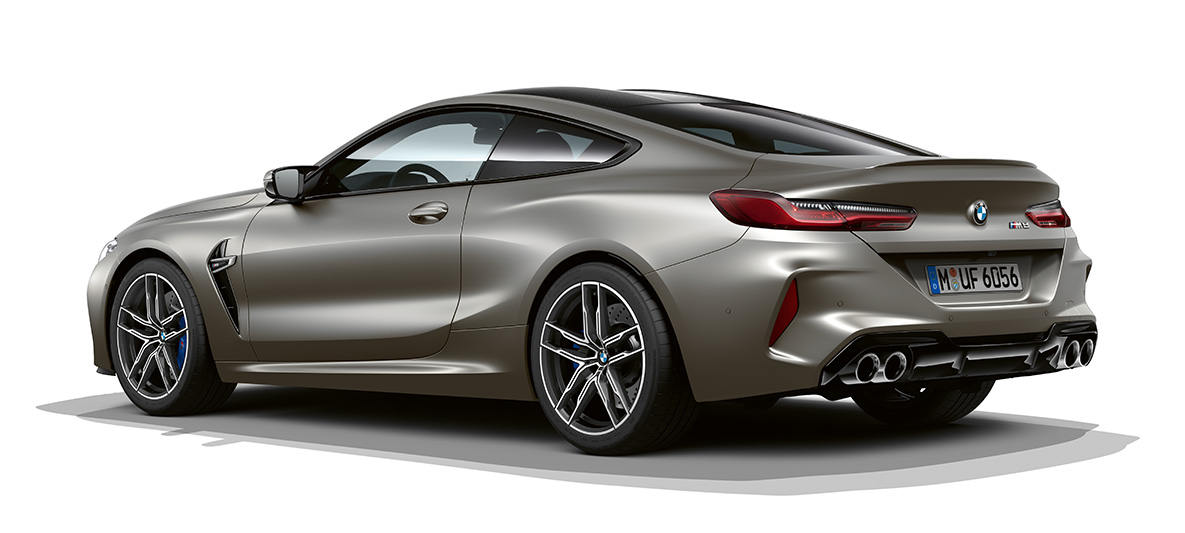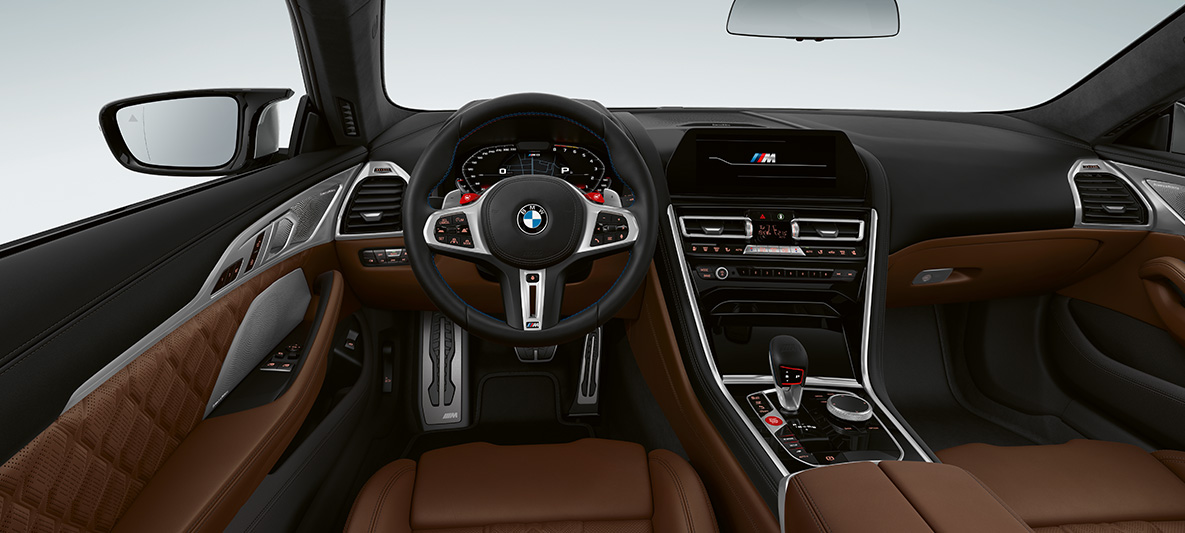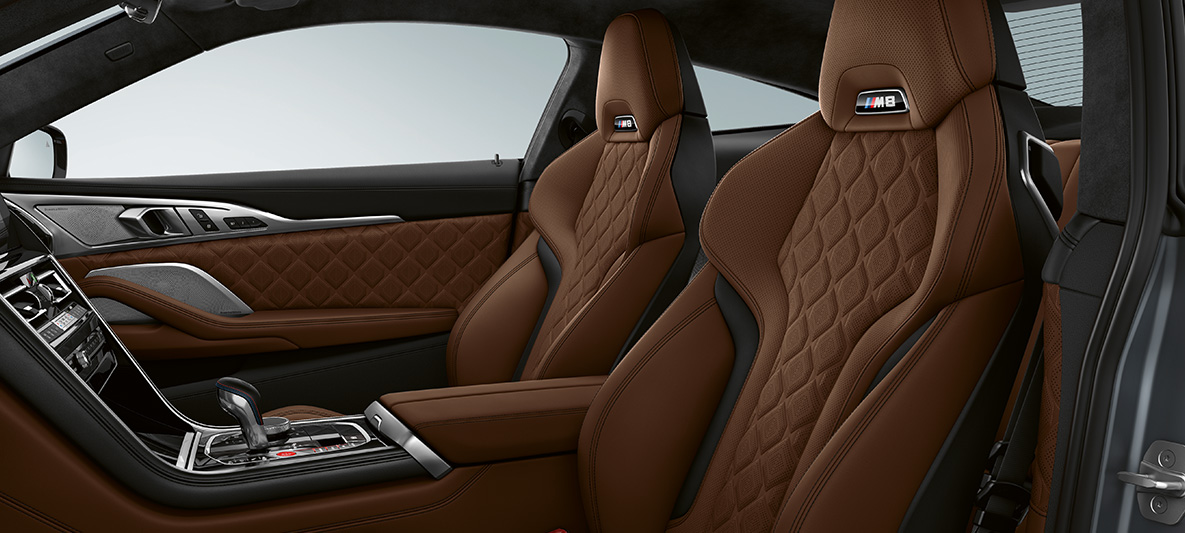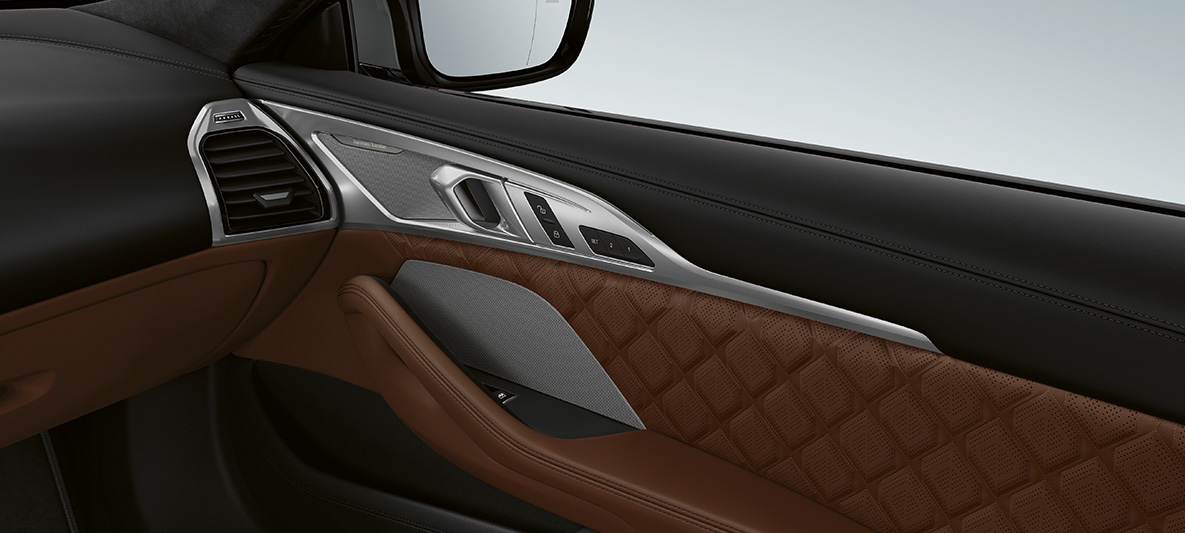 BMW M8 COUPÉ DESIGN HIGHLIGHTS
The design of the BMW M8 Coupé is a statement of real sporting character fused with undeniable luxury. Distinctive M specific design elements such as the kidney grille frame and the sport exhaust system in high-gloss chrome create exclusive exterior accents. In addition, the large air inlets with strips and front splitters in Black high-gloss along with the M exterior mirrors and the M rear spoiler – both in body colour – allude to the high performance of the BMW M8 Coupé. The expressive 20-inch M light alloy wheels further underline the dynamic character. Exclusive sportiness is also tangible in the interior – M Sport seats in 'Merino' leather, the M leather steering wheel and other extravagant details, such as the sporty interior trim strips and the Alcantara roofline, stylishly convey a feeling of luxury.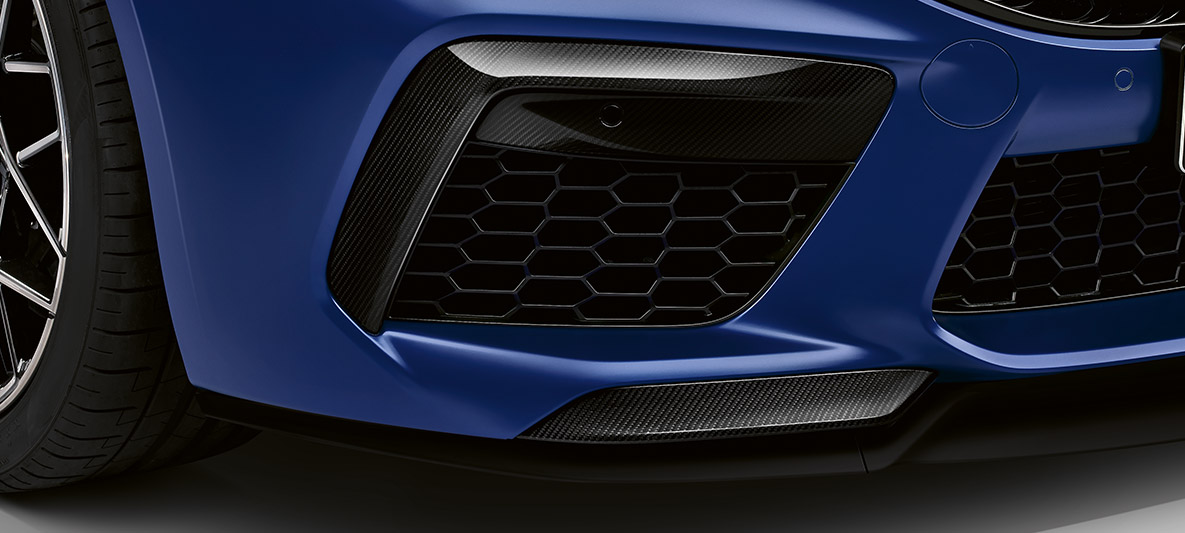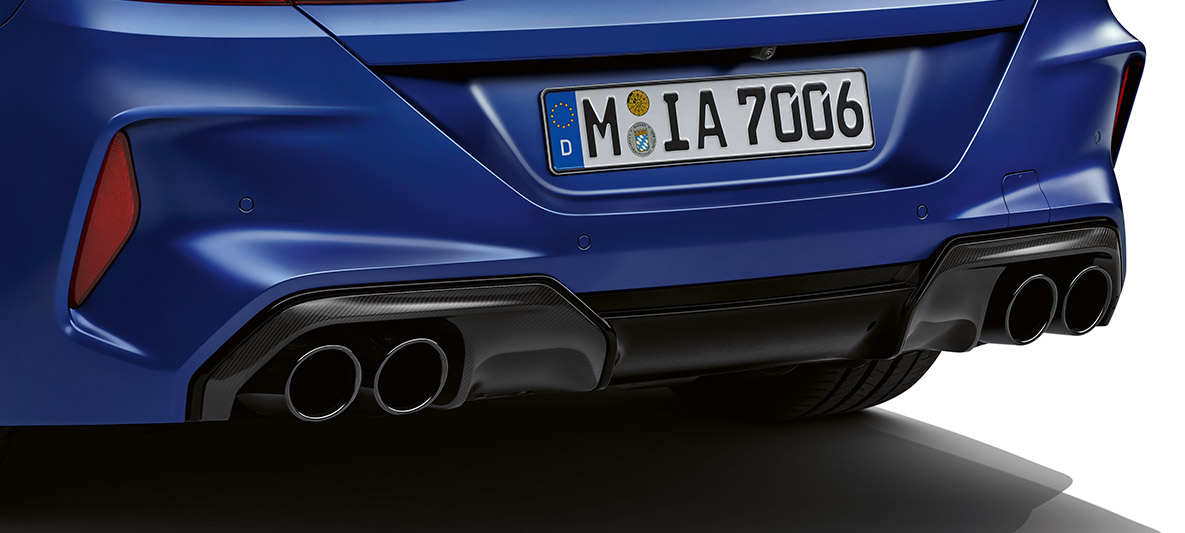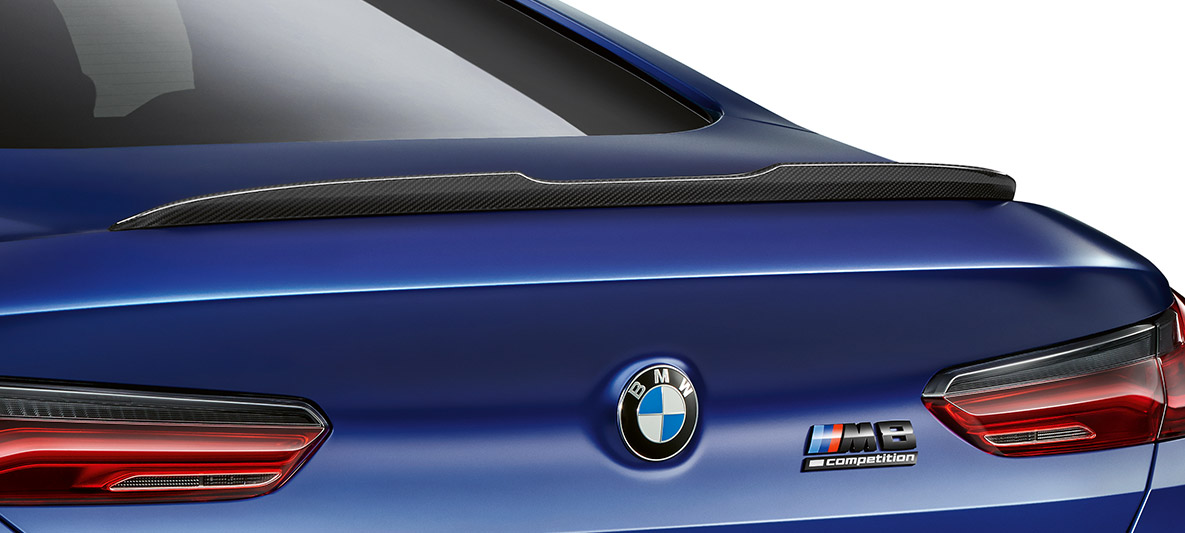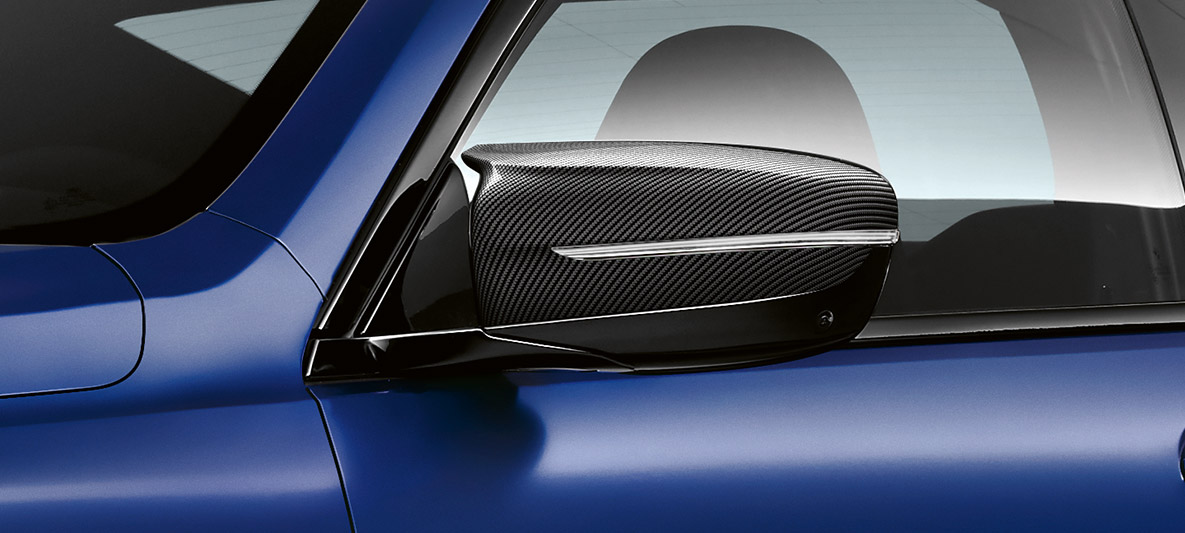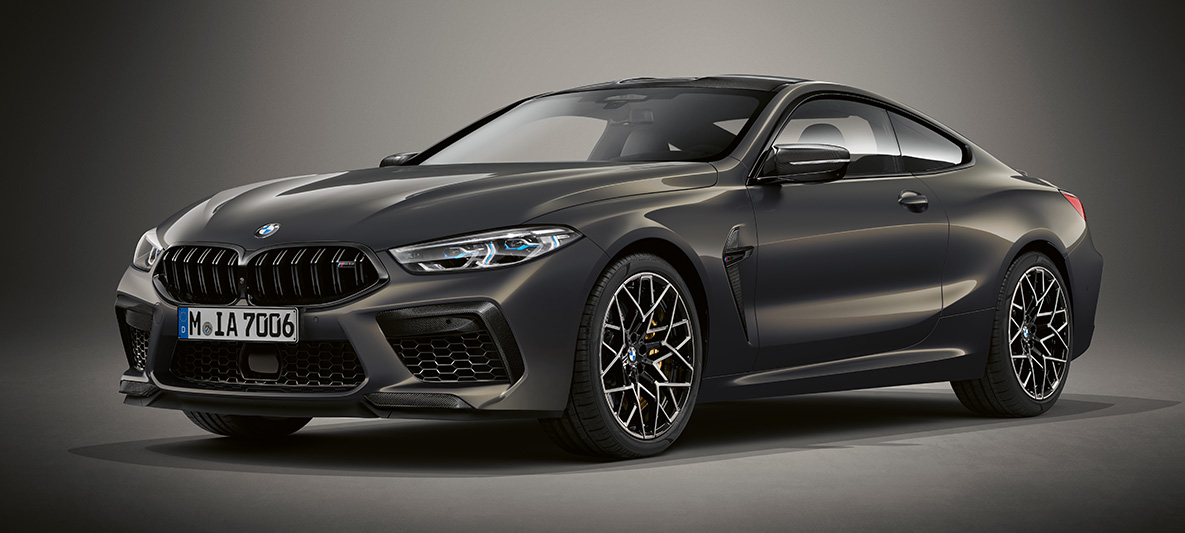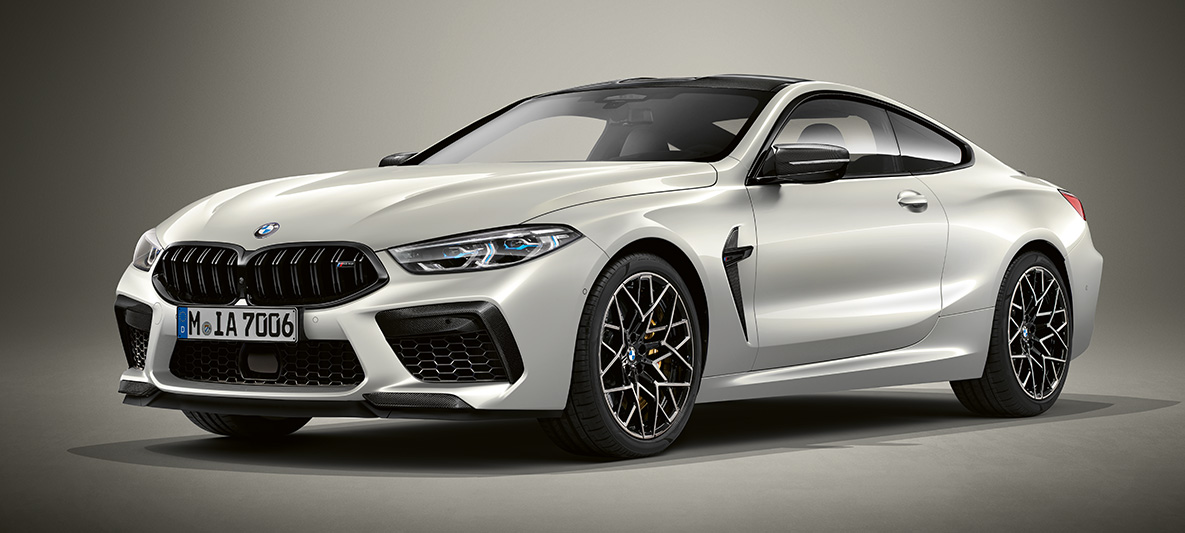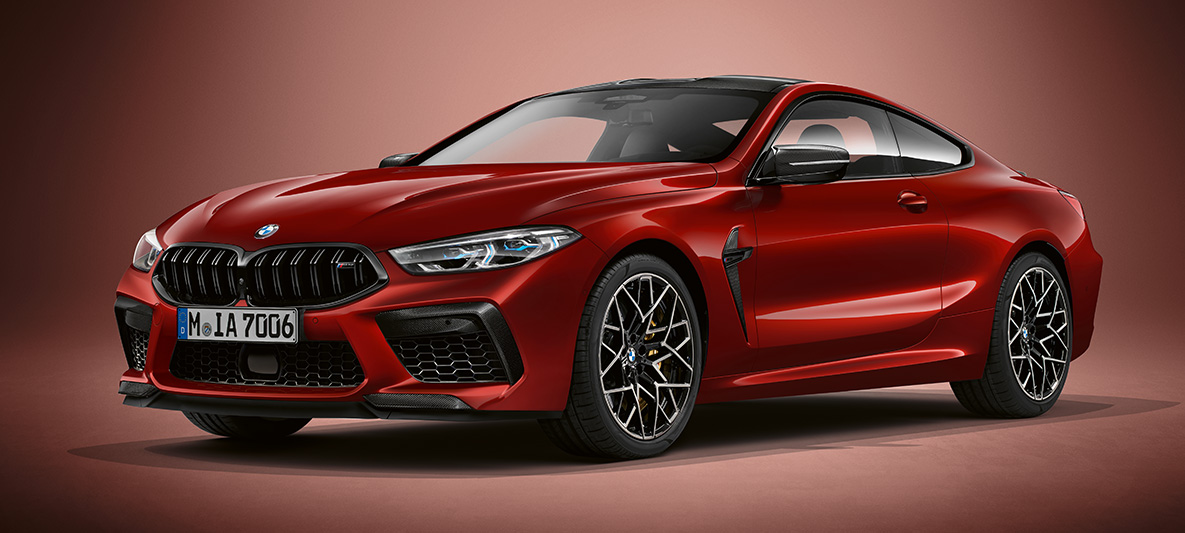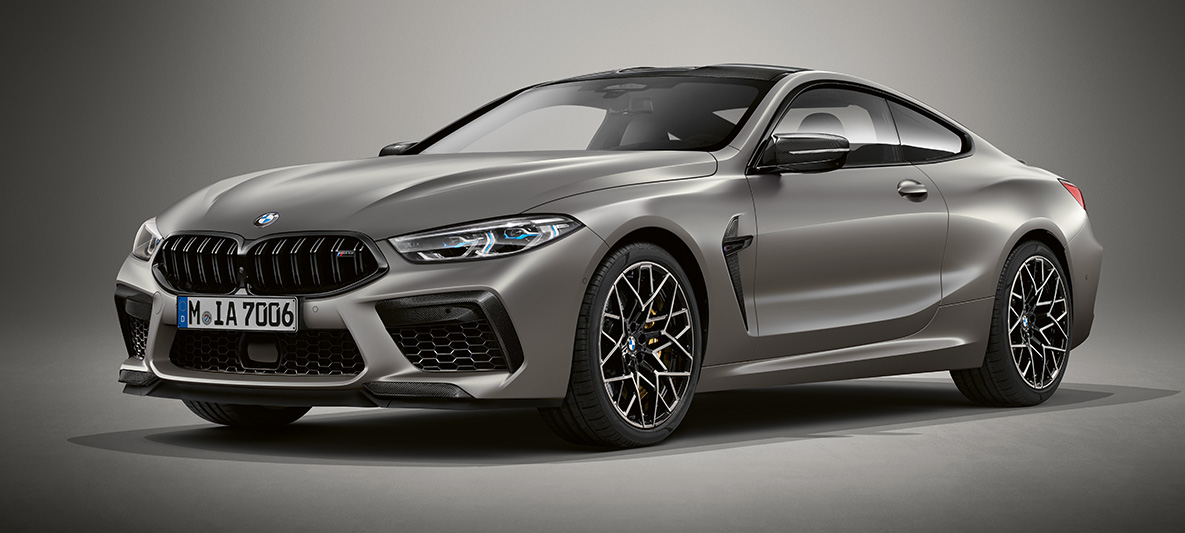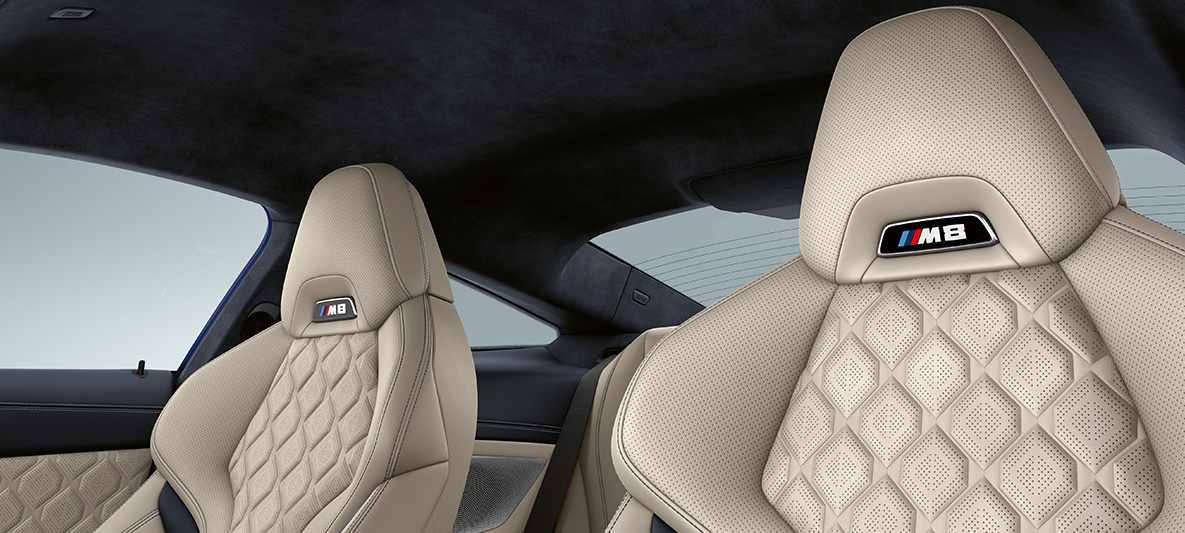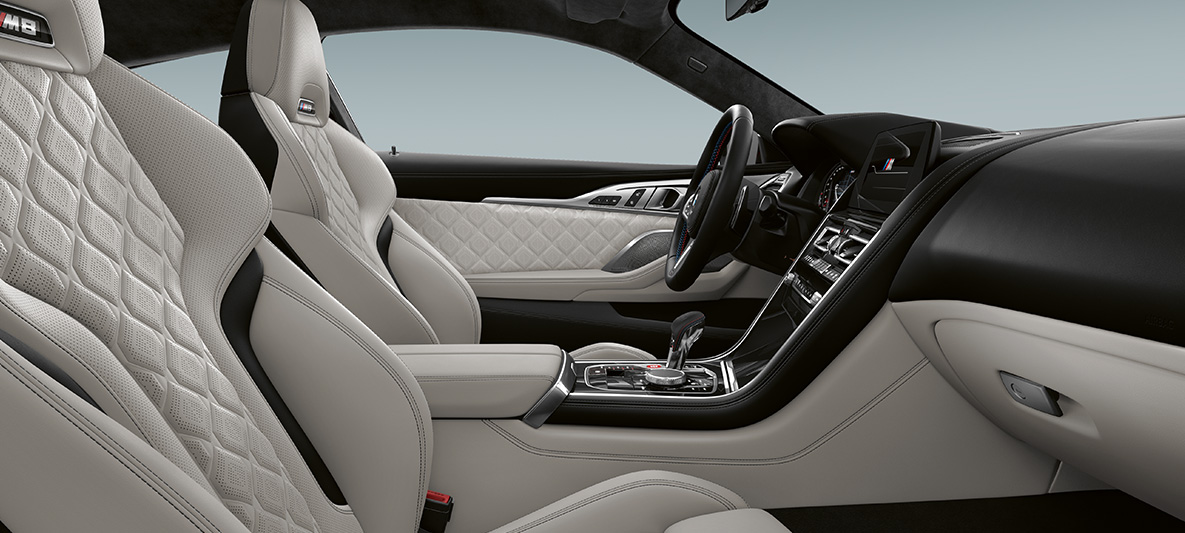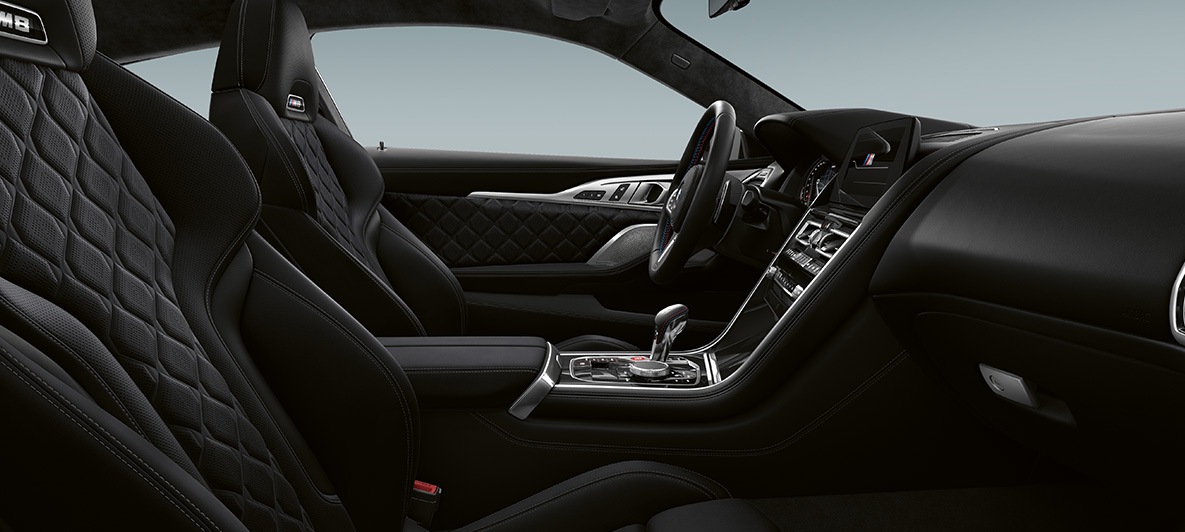 BMW INDIVIDUAL.
The BMW M8 Coupé is a strong expression of personality. The exclusive equipment options from BMW Individual defines a unique character for this luxurious sports car. Choose from a range of unique paint finishes that brilliantly encapsulate exclusivity, such as the "Dravite Grey metallic", "Aventurine Red metallic", "Frozen Brilliant White" or "Frozen Dark Silver metallic" paintwork shown here. An aura of elegant exclusivity is conveyed through hand-stitched sports seats with finely contrasting threads, presented in the highest quality 'Merino' leather upholstery. For example, the full leather 'Merino' Black or 'Merino' Silverstone White as well as 'Merino' Ivory White/Night Blue – all with refined honeycomb quilting. Exclusive BMW Individual interior trims, as the one presented here in piano finish Black, and the Individual Alcantara headliners in Black, Anthracite or Night Blue round of the luxurious, sporty ambience.

BMW M8 COUPÉ
DRIVER ASSISTANCE AND CONNECTIVITY
Focus on the important: With innovative driver assistance systems and convenient features in the connected cockpit, the BMW 8 Series Coupé M Automobiles are state of the art – for contemporary mobility of the highest calibre.
Parking Assistant Plus.
Parking Assistant Plus makes parking and manoeuvring the vehicle easier. It features among others the Surround View system including Top View, Panorama View, Remote View 3D , as well as a lateral parking aid, the emergency braking function Active Park Distance Control, Parking Assistant with longitudinal and lateral guidance and Reversing Assistant.
Driving Assistant Professional.
Driving Assistant Professional offers optimum comfort and maximum safety during lots of critical or monotonous driving situations with Steering and lane control assistant incl. support in narrow places, Emergency Stop Assistant, local hazard warning, Lane Keeping Assistant with active side collision protection and other safety functions.
BMW Virtual Assistant.
'Hello, BMW. Who are you?' Wouldn't it be incredible if your BMW acted like your personal assistant? Communicate in a new and easy way with your vehicle using the BMW Virtual Assistant. It knows you, learns your behaviours to improve every day and helps out whatever the situation. It can explain everything about your vehicle and help you get better acquainted with your BMW. You can even assign your own personal activation word.
M specific Head-Up Display.
The M specific Head-Up Display with configurable contents focuses on information relevant for sporty driving, such as the revolution counter with pre-warning range and shift lights, as well as the gear indicator. * only available in the BMW M8 Coupé and BMW M8 Coupé
BMW Live Cockpit Professional.
The BMW Live Cockpit Professional with navigation function includes a digital display network consisting of a high-resolution 10.25" Control Display that can be operated by touch, a 12.3" instrument display and an M specific Head-Up Display.
FUEL CONSUMPTION AND CO2 EMISSIONS.
BMW M8 Coupé:
Fuel consumption in l/100 km (combined): 10.6–10.5
CO2 emissions in g/km (combined): 242–238

BMW M8 Competition Coupé:
Fuel consumption in l/100 km (combined): 10.6–10.5
CO2 emissions in g/km (combined): 242–238

BMW M850i xDrive Coupé:
Fuel consumption in l/100 km (combined): 10.0–9.9
CO2 emissions in g/km (combined): 227–224


Images show optional equipment, screens and displays depend on equipment options.

The information on fuel consumption, CO2 emissions and energy consumption has been determined in accordance with the prescribed measurement procedure VO (EU) 715/2007 in the version applicable at the time of type approval. The figures refer to a vehicle with basic configuration in Germany and the range shown considers optional equipment and the different size of wheels and tyres available on the selected model.

Further information about the official fuel consumption and the official specific CO2 emissions for new passenger automobiles can be found in the 'New Passenger Vehicle Fuel Consumption and CO2 Emission Guidelines', which are available free of charge at all sales outlets and from DAT Deutsche Automobil Treuhand GmbH, Hellmuth-Hirth-Str. 1, 73760 Ostfildern, Germany and on https://www.dat.de/co2

The values are already based on the new WLTP regulation and are translated back into NEDC-equivalent values in order to ensure the comparison between the vehicles. For vehicle related taxes or other duties based (at least inter alia) on CO2-emissions the CO2 values may differ to the values stated here.


Read more
​
FUEL CONSUMPTION AND CO2 EMISSIONS.
Performance data as measured in the emission test done under controlled conditions of environment, driving cycle, fuel etc. as specified in Rule 115 of Central Motor Vehicle Rules, 1989.

Performance data measured in the test done under controlled conditions of environment, fuel, etc. as per Central Motor Vehicle Rules, 1989.

The models, equipment and possible vehicle configurations shown on this webpage may differ from vehicles supplied in the Indian market.

Some options may contain mandatory combinations with other options. Please check with your local Authorised BMW Dealer.

Terms and conditions apply. For further information please refer to the product brochure or contact your local Authorised BMW Dealer.

For detailed terms & conditions, scope of services (inclusions & exclusions) and coverage duration (in years) & mileage (in Kilometers), please refer BSI brochure and/or contact your BMW authorized dealer.